Last week marked another successful trip to DistribuTECH for Landis+Gyr as we joined over 13,500 attendees in San Diego for the industry's largest gathering of utilities and technology providers. Our theme was "A Clear Energy Vision," a combination of technology solutions for a wide range of utility challenges, focused on helping utilities manage energy better.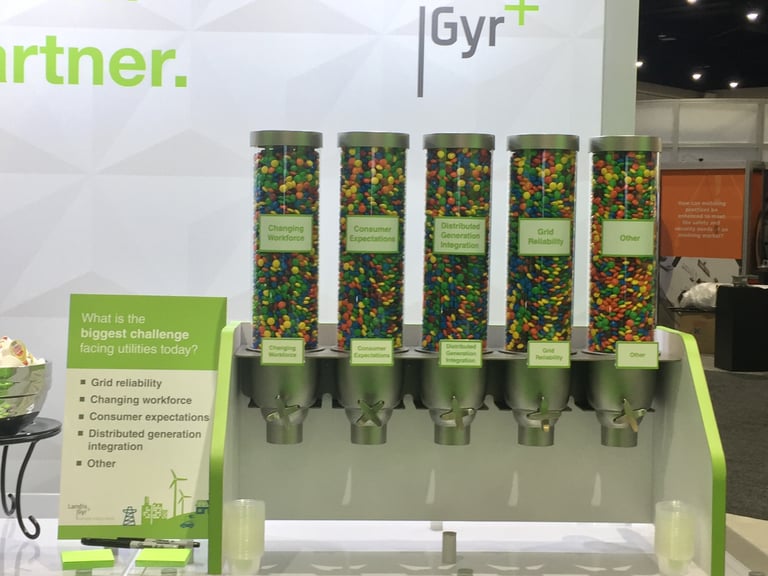 Our booth featured a candy-based polling system where we asked visitors to identify what they saw as the greatest challenge facing utilities today. The results, though unscientific and potentially hunger-based, saw the industry concerned with: DER integration, grid reliability, and consumer engagement at the forefront of visitor's minds. These challenges echoed the broader themes of the event and warrant a closer look:
Rising Renewables— As more DERs continue to be added to distribution systems, utilities are seeking new solutions to manage both integrate and fully leverage new renewable generation—Landis+Gyr was thrilled that utility partner Arizona Public Service was recognized as Project of the Year by DistribuTECH. The project represents a new approach to designing communications architectures for advanced inverters, enabling greater ability to control and dispatch renewables to maintain system stability.
Reliability at the Grid Edge—Reliability has always been at the forefront of utilities minds, but the challenge is now how to utilize existing technology investments to ensure that the lights stay on. The answer for many utilities has been to expand their ability to sense and visualize the status of their grids all the way to the meter, and increasingly beyond. Connecting intelligent devices (meters, sensors, thermostats) directly to the grid has long been a core of Landis+Gyr's solutions, but this year's event highlighted our extended product portfolio and network of partners to connect a whole host of new technologies to utility networks as they build out their IoT and Smart Cities business cases.
Consumer Engagement is Critical— The evolving role of the consumer was front and center at this year's event. Many of the booth conversations focused on traditional themes, such as service quality, reliability, and engagement, and led to newer themes such as prosumer, behind-the-meter, and transactive energy. The core of all these conversations was that consumers are now playing a more active role in grid management and utilities need to expand efforts to better integrate their customers into grid management activities. These conversations coincided with last week's launch of Landis+Gyr's Engage platform, which offers utilities new tools to improve consumer relationships through communication and education, as well as the ability to offer new services through a dedicated utility marketplace.
In addition to addressing the industry's challenges, this year's DistribuTECH provided Landis+Gyr the ability to connect personally with our customers, partners, and friends, which provides much of the motivation to keep striving toward new solutions and new relationships. We look forward to connecting with you all again next year at DistribuTECH 2018 in San Antonio.