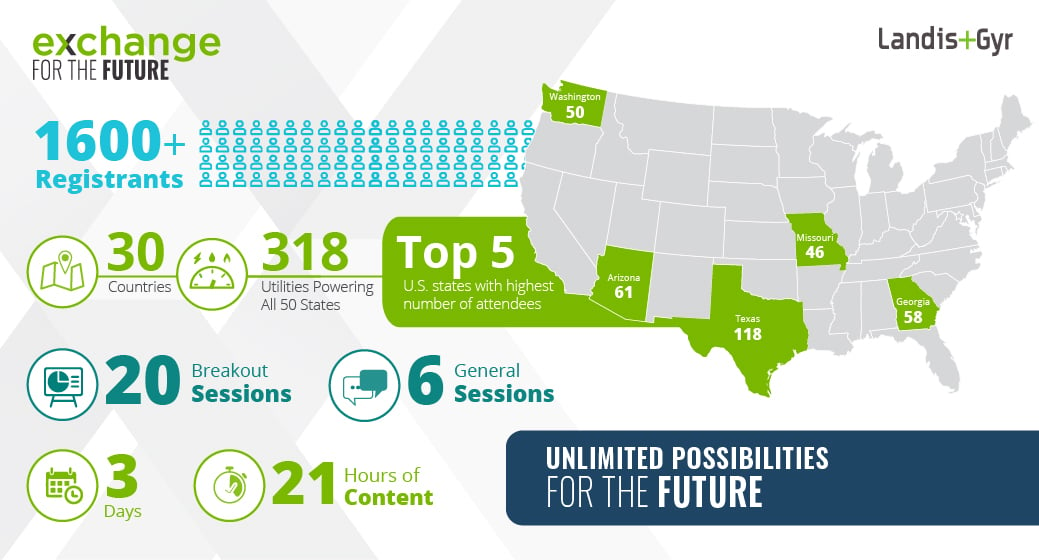 Last week, over 1,600 registrants in 30 countries from over 300 utilities—keeping the lights on for all 50 U.S. states—experienced how utilities are leading positive change for the future. The incredible Landis+Gyr community came together to explore how we're building a brighter energy future, together.
Day 1 – Innovation for the Future
The conference kicked off with a welcome from Global CEO, Landis+Gyr Group, Werner Lieberherr, followed by a powerful session where Carlos Nouel, VP of Smart Solutions at National Grid, joined Prasanna Venkatesan, President and CEO of Landis+Gyr Americas, to discuss National Grid's vision for the energy future. Tim Weidenbach, SVP of Technology, closed the session with innovation highlights and three ways we will shape the future of energy. The day's breakout sessions covered a range of topics from leading with purpose to how utilities are leveraging consumer energy insights for a variety of use cases. We closed out the day's session content with a lively panel discussion about our partnership with Google Cloud. Check out a recap of day 1 here.
Day 2 - Solutions for the Future
In addition to a global pandemic, 2020 brought hurricanes, wildfires, and unprecedented winter storms to many parts of the U.S. Day 2 kicked off with a panel of utilities sharing how they prepare for these events, how lessons from natural disasters help prepare for the future, and the role of smart grid technology in planning and recovery efforts. The day's breakout sessions covered a range of topics from how Revelo is a game-changer for the energy industry to how AI & machine learning is creating future opportunities for utilities. We closed out Day 2 with a panel discussion on how electrification is helping utilities reach clean energy goals. For a recap of day 2, click here.
Day 3 – Momentum for the Future
Every year, the power of people and community is a key topic at Exchange. Day 3 kicked off with an executive leadership panel, bringing together industry leaders as they reflected on the challenges of the past year and how they responded. The day's breakout sessions covered a range of topics from how utilities can leverage smart street light control to how interoperability and future IoT-based applications are enabling the clean energy future. Read a recap of highlights from the final day of Exchange 2021 here.
Landis+Gyr's Exchange 2021 was a record-breaking event, where attendees from around the globe showcased how our energy management community is transforming the future of energy. We cannot wait to be back together again in person in Orlando, May 16-19, 2022.
Sign up to receive updates about Exchange 2022 in sunny Orlando, May 16-19.