Partnership is Powering the Shift to IoT and Smart Cities
As the industry shifts to large-scale smart city and IoT initiatives, many utilities are making their next infrastructure investment for use cases beyond traditional AMI, such as grid management, smart city, and renewables integration. These implementations require true interoperability of diverse network services and devices. Working within the Wi-SUN Field Area Network standard, Landis+Gyr and Cisco have developed an open interoperability solution designed to meet these requirements.
One Solvable Challenge: Avoid "Vendor Lock-in"
To understand vendor lock-in, you can look at the cell phone industry. Originally, cell phone providers locked you into using a specific carrier. If you wanted to switch carriers, you had to purchase a new phone altogether. That was cost-prohibitive, therefore many users were stuck with a service that didn't meet their needs.
Similarly, in the utility industry, hardware-defined network integration can lock utilities into dependence on a single communications module provider, even when it fails to meet their interoperability needs. As with the cell phone industry, this dependence on a single provider leads to increased costs, potential equipment delays, and an inability to adapt to changing business needs.
Now Unlock Choice and Flexibility with Software-defined, Standards-based Integration
Landis+Gyr and Cisco have partnered to provide a software-defined integration solution, built on Wi-SUN Field Area Network (FAN) open standards. This solution gives utilities the flexibility to choose connectivity products that best fit their use cases, enabling them to source field area network technologies from multiple vendors and lowering the procurement risks inherent in hardware-defined network integration.
At the same time, Landis+Gyr and Cisco are working together to continue advancement of Wi-SUN standards to ensure a growth path that preserves seamless interoperability into the future. This means utilities will not be locked in to using today's tools to solve tomorrow's challenges.
The Solution: A Unified Network
The solution provides a unified network featuring Landis+Gyr and Cisco proven Wi-SUN FAN 1.0 certified products in a single mesh, ensuring seamless interoperability end-to-end. Network communication is managed by a common network manager, Cisco Field Network Director, and meters are managed by Landis+Gyr's Command Center head-end system.
All devices are interchangeable and have "native" interoperability, without requiring custom integration efforts. This is a key differentiator and crucial element for eliminating vendor lock-in. The solution ensures utilities have access to the very best Field Area Network and energy management technology available, while delivering the flexibility, investment protection, and peace of mind that comes with a non-proprietary solution.
Advancing the Wi-SUN Standard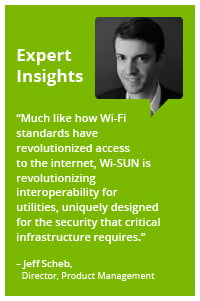 Landis+Gyr and Cisco are ensuring end-to-end interoperability through a close collaboration with Wi-SUN. They are working together to incorporate enhancements that achieve the required performance levels for real-world Wi-SUN FAN 1.0 deployments, in addition to helping shape forthcoming standards that continue to extend the level of interoperability between vendors.
The goal in providing leadership is to accelerate the rollout of Wi-SUN FAN 2.0 features, and ensure a clear migration path for future solutions. This means that utilities can be ready for regulatory environments that require Wi-SUN FAN compliance, while at the same time protecting their procurement flexibility, and optimizing the value and business opportunities of having multi-purpose networks.
The Takeaway
Open standards for interoperability enable providers to deliver solutions that feature options, flexibility, and efficiency. Built on proven Wi-SUN standards-based interoperability, the Landis+Gyr and Cisco solution gives utilities choice and control by:
Leveraging existing infrastructure
Preventing vendor lock-in
Optimizing your IoT Investments
In addition, being able to deploy a single interoperable network streamlines operations, improves speed and efficiency of networked services, and increases security.