Are microgrids the key to improving power resiliency and hardening the grid?
In the last three years, the United States has incurred $460.4 billion in damages related to weather and climate disasters­­­­ –averaging $153.5 billion yearly per the National Centers for Environmental Information (NCEI). (NOAA, 2020)
So far in 2020, there have been 10 recorded severe storm events that exceeded $1 billion each, not including the recent Hurricane Laura or the novel Coronavirus, a wholly unexpected disruptor beyond storms and fires. To mitigate the financial and power loss consequences caused by a damaged power grid and loss in functioning assets, utilities are investing in microgrids.
What is a microgrid?
The Department of Energy describes microgrids as "localized grids that can disconnect from the traditional grid to operate autonomously." These microgrids can operate in parallel or independently of the utility grid, using a switch to separate the two and allowing the microgrid to function as an "island" when autonomous. Microgrids can be customized to meet the needs of the regions in various designs and sizes, from powering a single facility to an entire community. (Department of Energy, 2020)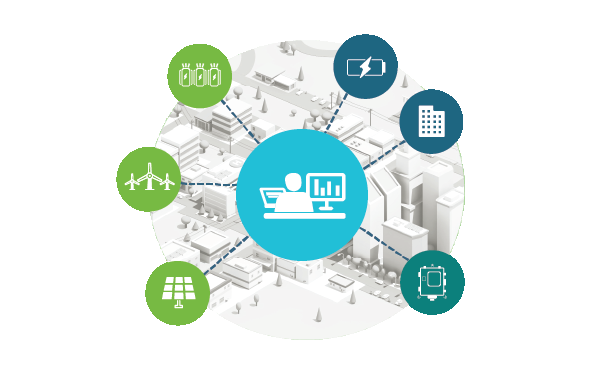 Microgrids support near-critical loads that can help avoid the vulnerability of long transmission and distribution lines. Their main aim is to improve power system reliability, strengthen grid resilience, and provide faster system recovery. This investment is one of the many steps that energy utilities invest in as part of an overall system hardening to prepare for natural disasters.
The technological components of a microgrid contain generators, batteries, or renewable sources like solar and wind. A lesson in optimizing a microgrid is using it beyond emergencies to stay reliable. This can be achieved three ways:
Integrating microgrids as a normal part of generation supply, ensuring operating and perpetually checked parts

Operating and balancing the grid with local loads in emergencies

Combining it as part of a group of local microgrids to improve reliability and flexibility
Microgrids in action
The microgrid at Ocracoke Island in North Carolina is a prime example of the countrywide initiative to ensure power access to customers when the main grid falters due to natural disasters. One of three microgrids operated by North Carolina Electric Cooperatives, the facility at Ocracoke Island opened in 2017. Its location in North Carolina's Outer Banks allows strategic use during intense weather and peak demand times.
While the island's microgrid operates as a component of the larger electric grid, it can also work independently. Learning is a large part of microgrid projects, in exploring their future uses, reducing power supply costs, and experimenting with alternative power generation and storage.
"Through the use of renewables to generate and store electricity, combined with smart control technology and sensors, microgrids are an increasingly important component in the mission to provide reliable and affordable electricity," said Steve Kenny, solution director at Landis+Gyr.
However, across the country, California IOUs are cutting back on their microgrid plans that were part of the 2020 preventive measures to reduce wildfire risks. Citing high costs and deployment reasons, these Golden State utilities were not able to implement vast measures on such a tight timeframe, including Southern California Edison, and instead opted for short term measures like covering conductors until the operational complexities can be sorted. (Utility Dive 2020)
Still on the West Coast, the City of Beaverton and Portland General Electric announced a joint microgrid in late 2019 that will seek to continue emergency operations during any power interruptions from their main grid. Located in their new seismically-stable public safety building-- the combined effort also sought to meet PGE's Green Future Impact, a directive to use 100 percent wind or solar power for large commercial, municipal, and industrial clients.
Solar panels are expected to provide energy for 40 percent of the public safety building during the year and store excess energy for emergencies. Using the microgrid beyond emergency situations is vital. It helps maintain the assets in working order, and in instances of fossil fuel-fired generators, ensure that fuel is fresh and that the microgrid is reliable.
Grid edge intelligence for microgrid success
As microgrids draw more interest to promote grid stability and DER integration, utilities will benefit from extending their knowledge of grid edge performance. It will be critical to combine intelligent connected sensor networks and corresponding systems and services that go beyond traditional consumption measurement and monitoring.
The grid edge is brimming with intelligence that can arm utilities in effectively integrating and managing distributed energy resources, improving outage management and restoration, and implementing emerging business models and regulatory requirements.
Doors of opportunity are open for building a more resilient grid, flexible energy options, and stronger partnerships between utilities and their communities through evolving grid technologies. Landis+Gyr has the knowledge and expertise to deliver innovative technology and help utilities turn grid edge intelligence into business value.
To stay in-the-know with the latest news from Landis+Gyr, sign up to receive updates delivered straight to your inbox.