Grid modernization presents unique challenges, but it also opens the door to new benefits and opportunities. Most projects at today's utility start with a digital focus and use techniques of the digital economy, such as mobile applications and retail-orientated consumer interfaces. The key to success is applying these strategies in a way that connects people to the information they need. To find out more about this digital utility evolution, I sat down with Prasanna Venkatesan, Americas CEO at Landis+Gyr.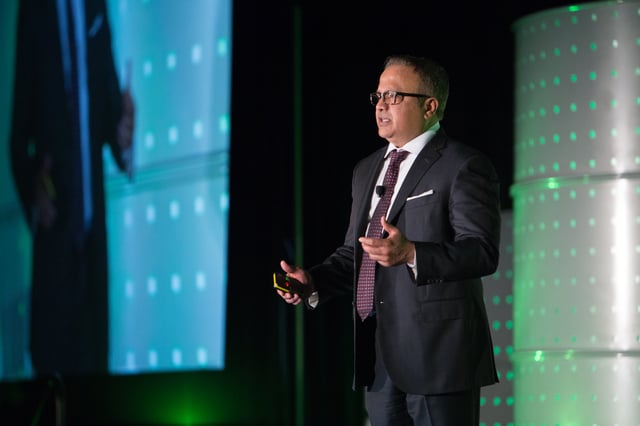 How would you define and describe a digital utility?
The utility industry is in the midst of a digital revolution. This isn't something that happened recently; it's been occurring over the past decade. We can look at a few mile milestones.
First, the government stimulus of 2005/2006 made money available to help utilities fund digital technology investments. Then, as technology advanced, increased computing power and connectivity at lower costs has allowed intelligence to be cost effectively added to many more devices. What was once reserved for high value assets is being applied almost ubiquitously. Finally, the expansion of Advanced Metering Infrastructure investments allowed utilities to capitalize on other uses of the two-way communication network such as connect/disconnect switches over the network.
How has this impacted utility operations and structure?
From a transactional standpoint, utility CIOs have taken a bigger role beyond the metering or operational process. They now look at what can be done with the whole enterprise to enable system level or process level transactions.
The operational side of the utility puts IT systems in place and extends the network to cover other devices on the grid (distribution automation, sensors, cap banks, switches, controllers, FCIs, etc.) Now we have two-way command and control communication, resulting in more operational savings, power quality, and reliability.
This is driving many transformational changes. In the world of distributed energy resources (DERs) and consumer engagement, utilities have needed to connect more effectively with consumers. Utilities now need to be considered in the same context as any other service provider.
What are the biggest factors to consider when designing a digital utility?
An energy platform is a complete end-to-end solution set for a utility, and that platform needs to be scalable, flexible, and very adaptable to a changing business model. These systems need to be open and interoperable to other devices, which is key for utilities investing in the future. Technology investments have to be made with an eye on requirements 10 years from now to avoid stranded assets.
Which technologies show the most potential for benefitting utilities going forward?
While technology is changing, the core utility mission remains the same. The technologies that positively impact service reliability, safety and security, affordability, and efficiency will provide the greatest benefits.
Speaking of security, what can utilities expect from Landis+Gyr when trying to keep their environment and consumers safe?
Every solution set Landis+Gyr releases as a commercial product is absolutely vetted against certain cyber security themes we believe in. We have taken principles from the Department of Defense and implemented those security solution sets into our software and devices. We also run a secondary level of security – a testing phase. We bring in highly reputable third-party agents, to act as an independent auditor. These auditors make sure our systems meet or exceed the standards required by utilities. Not only is it cyber security, but also physical security. For example, right now we're exploring certain devices we can put at the substation level, providing our customers alerts and alarms should there be a physical threat.
How is Landis+Gyr helping utilities address rising consumer expectations?
One approach is taking a strong leadership role in industry organizations and trade associations to support the objectives of grid modernization. For example, we are contributing insights and approaches to IoT as a board member of the Georgia Tech Center for the Development and application of Internet of Things Technologies. We are also active with groups like the Advanced Energy Economy and Smart Grid Consumer Collaborative and others looking to educate and engage consumers in the value of grid modernization. And we back this up by continually evaluating how our solutions impact the consumer relationship. For many emerging challenges, Landis+Gyr continues to evolve our products to meet emerging business and consumer challenges. These include apps that allow direct consumer involvement in demand response, energy storage, smart inverter solutions for DER integration, and the most advanced support for new billing strategies. We are continually working with our utility customers to enable consumer engagement and new business models.
Do you have any final thoughts you would like to share?
I believe Landis+Gyr is in the best position to handle the changes we're seeing in the energy world. If you look at digital penetration rates within the utility industry, it's very high in the United States. Just about every vertical of electric, gas, and water delivery are advancing their technology investments. Utilities want to know what they can do to help consumers manage energy and engage with them, the kinds of marketing programs should they be introducing, and how they should manage new energy resources. The industry is evolving and it's a great time to be part of it.
For more information on how Landis+Gyr can help your digital utility, visit LandisGyr.com.
More on Prasanna Venkatesan:
Prasanna currently serves as President & CEO of Landis+Gyr Americas. In this role, he is responsible for all aspects of business within the region, including full P&L responsibilities for operations in both North and South America, customer satisfaction, development and execution of the regional growth strategy, as well as managing a broad portfolio of innovative products, solutions, and services to empower utilities and end-customers to improve their energy efficiency, reduce their energy costs and contribute to a sustainable use of resources.