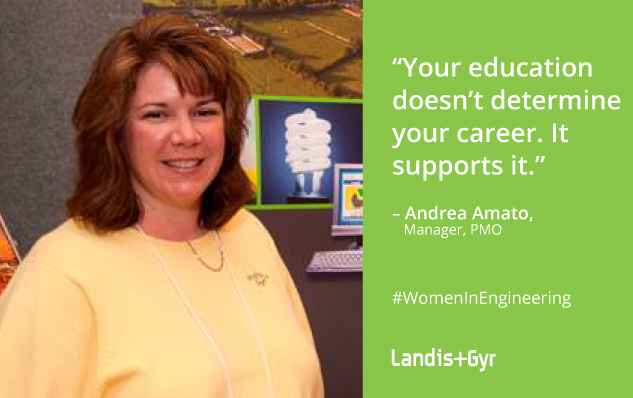 Research shows a positive correlation between gender diversity in a company's workforce and revenue performance. Many companies make it a priority to increase the number of female engineers within the organization, helping to foster creativity and diversity. In recognition of Women in Engineering Day on June 23, we are highlighting the female engineers who support Landis+Gyr's mission to help the world manage energy better.
We chatted with Andrea Amato, manager, PMO to get her perspective on what drives a successful career in STEM fields and what she enjoys the most about her current role.
What is your current role and responsibility?
I am a PMO manager in the R&D product management office (PMO) team and have been with the team for more than 10 of the 15 years I have worked at Landis+Gyr. We have a team of 6 people, including project managers in the US and Brazil, focused on product development and improvements.
What do you love most about your current role?
I love that there is never a dull moment. Every project presents different challenges. And while I can use the knowledge from my toolbox of experience to deal with these, every challenge utilizes different methods for resolution.
Where and how did your career in engineering begin?
I received my B.S. Organizational Leadership & Supervision from Purdue University. My introduction to engineering came in the role of product specialist in product management where I was responsible for all products being sold in the Canadian market. As a product specialist, my role was to understand the technical side of the products we produced and to write specifications for new products that the market required. From there, I moved to R&D formally by joining the development PMO.
What advice would you give to others interested in a STEM career?
This is something I tell my own kids today: In order to find your place in this world, you must take full advantage of all the opportunities presented to you throughout your career. Your education doesn't determine your career – it supports it.
What changes have you noticed for female engineers in the industry over the past 10 years?
There are many more of them! In a segment that was largely male driven, we have seen more females studying engineering & technology in the past ten years.
What is the most valuable thing you've learned throughout your career?
Self-accountability, flexibility, and a willingness to learn will take you far in your career and in life.
We are proud to have engineers like Andrea on "Our Green Team" and look forward to sharing more of their stories with the Landis+Gyr community. To learn more about another female engineer helping us build a brighter energy future, check out last week's blog featuring Tara Murali, product manager.