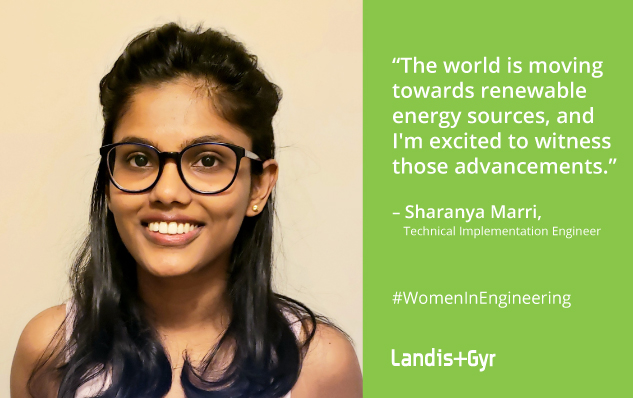 Over the decades, the corporate world has come to view the well-being of its employees with vital importance. Today, corporate culture is among the greatest selling points for many organizations to attract the brightest and most talented individuals.
In the spirit of celebrating the brilliant minds at Landis+Gyr, we recently chatted with Sharanya Marri from the Technical Implementation Engineering team about why she enjoys her current role and what upcoming changes she is most excited for in the field of engineering.
What is your current role and what do you enjoy about it?
I am a technical implementation engineer. I work on deployment as well as inter-departmental projects. I interact with teams across the organization and love that I get to learn something new every day.
What is one memorable engineering-related experience that you would like to share?
It was a fun experience explaining to my parents how the smart meter located outside their house works!
What changes or advancements in STEM have you witnessed in the recent years that have interested or surprised you the most?
It was interesting to witness the advancements in battery technologies that have enabled wide-spread usage of electric vehicles over the past decade.
Has your experience with technical subjects positively impacted your approach to anything outside of your profession? If so, in what way?
I believe that my education provided me with a growth mindset which helps me efficiently approach problems both in and outside of work.
What possible future changes or advancements in STEM are you most excited for?
The world is moving towards renewable energy sources and I'm excited to witness those advancements, especially in utility-scale energy storage solutions, since they will help with a global transition towards sustainable and clean energy.
If you could give advice to your younger self about pursuing a career in a STEM field, what would your advice be?
I think I picked the right field to pursue. I would just advise my younger self to be more aware of the technological advancements around.
We are proud to have engineers like Sharanya on "Our Green Team" and look forward to sharing more of their stories with the Landis+Gyr community. To learn more about another female engineer continuing our mission to help the world manage energy better, check out this interview highlighting Andrea Amato, PMO manager on the R&D product management office (PMO) team.